LevelSet: Early Feedback provides crucially important information. A validated, powerful online survey tool, LevelSet gathers essential data about New Leader navigation and behaviors that drive success. With this insight, New Leaders can course-correct before mistakes derail them.

Culture Snapshot creates an early opportunity for New Leaders to rapidly understand their operation's performance climate.
Snapshot explicitly reveals the impact of challenges faced by New Leaders and their teams, and focuses them to target the right actions.

LevelSet: Internal Moves, offers internally-deployed New Leaders with a timely, revealing assessment of their early understanding and effectiveness. Learn more about the numerous, and often hidden, challenges faced by Leaders experiencing internal moves.

Become qualified in Leader OnBoarding's proven tools: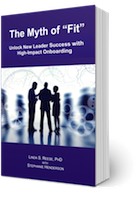 New Leaders deserve resources to support and speed their transitions. While your firm may have some tools and processes in place, their integration is key to New Leader success.
Another useful tool, The Myth of "Fit": Unlock New Leader Success with High-Impact Onboarding, is a great addition to your business library. Order your copy today.